SAN FRANCISCO–What a year for U.S. soccer. Low expectations were put upon them after their calamitous draw for the 2014 World Cup–a group which contained European powerhouses Germany and Portugal, along with Ghana, who had beaten the U.S. in each of the previous two World Cups. Thanks to a boost from Clint Dempsey, Tim Howard, and some of the younger players, The Yanks were able to make it out of the group over Portugal and Ghana, eventually losing to Belgium in the round of 16. It marked the first time in history that the United States made it out of the group stage in two consecutive World Cups.
Unfortunately, the tremendous World Cup run was followed with a series of disappointing results, most recently a 4-1 loss at the hands of Ireland, bearing no resemblance to the team that played just six months ago. Granted, the squad that played against Ireland only contained 10 of the 23 players that made the trek to the World Cup, but it posed some serious questions on what the future of U.S. Soccer would look like. Will this nation ever become a soccer powerhouse? Just as it looked like the Americans would be serious contenders for 2018, they drop 13 spots in the rankings in a span of six months, from #15 to #28.
While this article reports on the weaknesses of the present, there is a plethora of young talent in Europe and the MLS, including three players that everyone should keep an eye on for the next two years or so.
3. Joe Gyau (Borussia Dortmund) Age: 22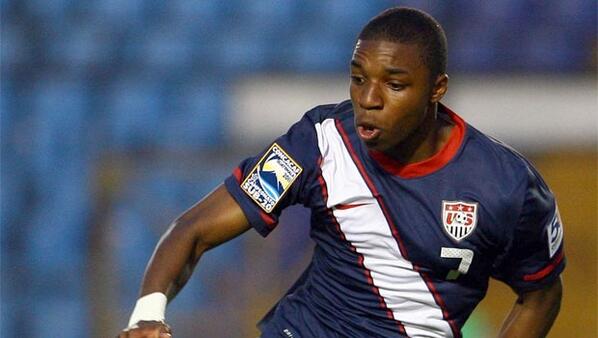 He might be the best player on this list, but he's injured at the moment, having torn his lateral meniscus in a friendly against Ecuador in October for the United States. Before his injury, though, he was a very promising player and was working up his way through the ranks for Borussia Dortmund, one of the best teams in the German Bundesliga. In 2012, on loan with club St. Pauli from Hoffenheim, he tallied 15 appearances for the team, helping them place 4th in the 2nd tier Bundesliga (2. Bundesliga). His impact on the team was noted, as Dortmund II signed him for a transfer fee of 120,000 €, for who he appeared in 10 league games, scoring two goals for the club. He was one of the most promising young players in the Dortmund academies and in a matter of just three months, made his first team debut against Vfb Stuttgart, contributing 20 minutes. It'll be interesting to see how he returns from his injury and elevates Dortmund's play, who shockingly is placed 17th out of 18 teams in the current standings.
2. DeAndre Yedlin (Tottenham) Age: 21
Probably the U.S. player who elevated his status most out of anyone on the roster during the World Cup, Yedlin possesses outstanding speed and quickness to be able to win 50/50 balls and make dangerous runs down the wing. As a defender, he is a bit raw, but with the right training at Tottenham he could become a world class RB in the coming years. Coming on in the 32nd minute as a sub against Belgium, he played extremely well, taking on Eden Hazard and even beating him at times. Goal.com rated him the 2nd best American player for that game, noting "His pace was vital to his team and he supplied good crosses from the right."